Oceans Friends Brand Feed Company
provides high quality frozen foods packed specifically for Aquariums, Zoos and other large organizations caring for Marine Mammals, Birds and Fish. We process fish and shellfish caught locally in California, as well as imported directly from other fisheries around the world. With extensive freezer storage and processing capability we can provide cost effective and custom solutions to meet your facility's needs.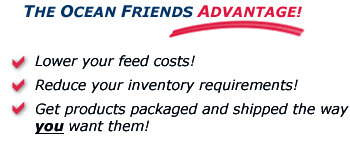 Contact us for information on how we can reduce your feed costs while offering your facility other advantages in the supply process.